Quality is not an option. Since its inception, the company's management has made a firm commitment to offer both products and services at the highest level.
To guarantee quality products we use raw materials of technical quality, of greater purity than those of agricultural quality. Also, we thoroughly control our manufacturing processes, all based on mild chemistry, with open reactors and at room temperature.

The company relies on ISO 9001: 2015 certification to achieve a customer-centered approach, improve leadership within the company and systematize continuous improvement.
We are certified by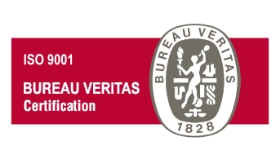 QUALITY POLICY
The Management of PROMISOL, a company dedicated to the design, manufacture and marketing of products for plant nutrition, considers quality as a strategic factor in the current market to achieve recognition of our products nationally and internationally and satisfy our customers. Therefore, it is committed to establish, implement and maintain a quality policy that supports its strategic direction by means of a quality management system in accordance with the UNE EN ISO 9001:2015 standard as a tool for:
Achieve full satisfaction of the needs and expectations of our customers.
Comply with all the requirements that are applicable to us because of our activity, whether these are legal, contractual or of any other nature.
Continuosly improve the quality management system in search of a better performance of our processes and activities.
Provide a frame of reference for the establishment and periodic review of our quality objectives.
Facilitate the level of training necessary for the efficient performance of the functions and tasks of our staff.
Evaluate the risks of all our processes to prevent and/or avoid possible deviations from the quality management system.
Consistent with the decision and expressed will, the PROMISOL Management is committed to providing the organization with the technical, economic and human resources necessary for the development and implementation of the quality management system and the achievement of its policy, which is will review annually in order to verify if it is appropriate to the purpose and context of the organization.
This policy is public, being available to relevant stakeholders, and is communicated, understood and applied within the organization, with quality being an objective and a responsibility of all employees, who should be aware of the importance of their activities and of its contribution to the achievement of the objectives.
Our thanks to the support of this policy by all.
General Manager PROMISOL