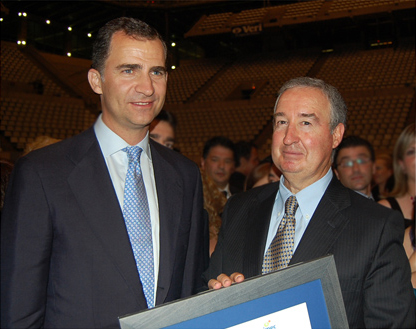 PROMISOL award PIMEC 2010
Innovation Award
The Prince and Princess of Asturias presided over the annual Pimec gala on June 7, 2010, during which the Pimec Awards were presented, which recognize the work of companies in areas such as business values and competitiveness in different sections. Among the companies awarded in the current edition is PROMISOL, S.A.
Promisol, S.A., is a company that has focused on international markets and export is its main source of income. Between 68% and 70% of your billing comes from the export. In Africa it sells in Tunisia, Morocco, Egypt and South Africa, in the Middle East to Jordan, Syria and Kuwait, in Europe, Italy, Greece and Portugal, while its biggest participation is in Latin America, in which it forms Promisol Centroamérica, SA, participating directly with Costa Rica, Guatemala, Honduras, Nicaragua, Salvador, Belize, Panama and the Dominican Republic, as well as Mexico, Ecuador, Argentina, Chile. It has created a business alliance with Paraguay and Uruguay, while with the United States it has technology transfer.
FOR EVERYTHING DESCRIBED, PROMISOL HAS BEEN AWARDED BY THE PATRON OF THE SMALL AND MEDIUM ENTERPRISE CATALAN PIMEC IN THE FRAMEWORK OF THE 13TH EDITION OF THE 2010 PIMES AWARDS.